Chatting Up A Storm: A Sports Conversation (Continued)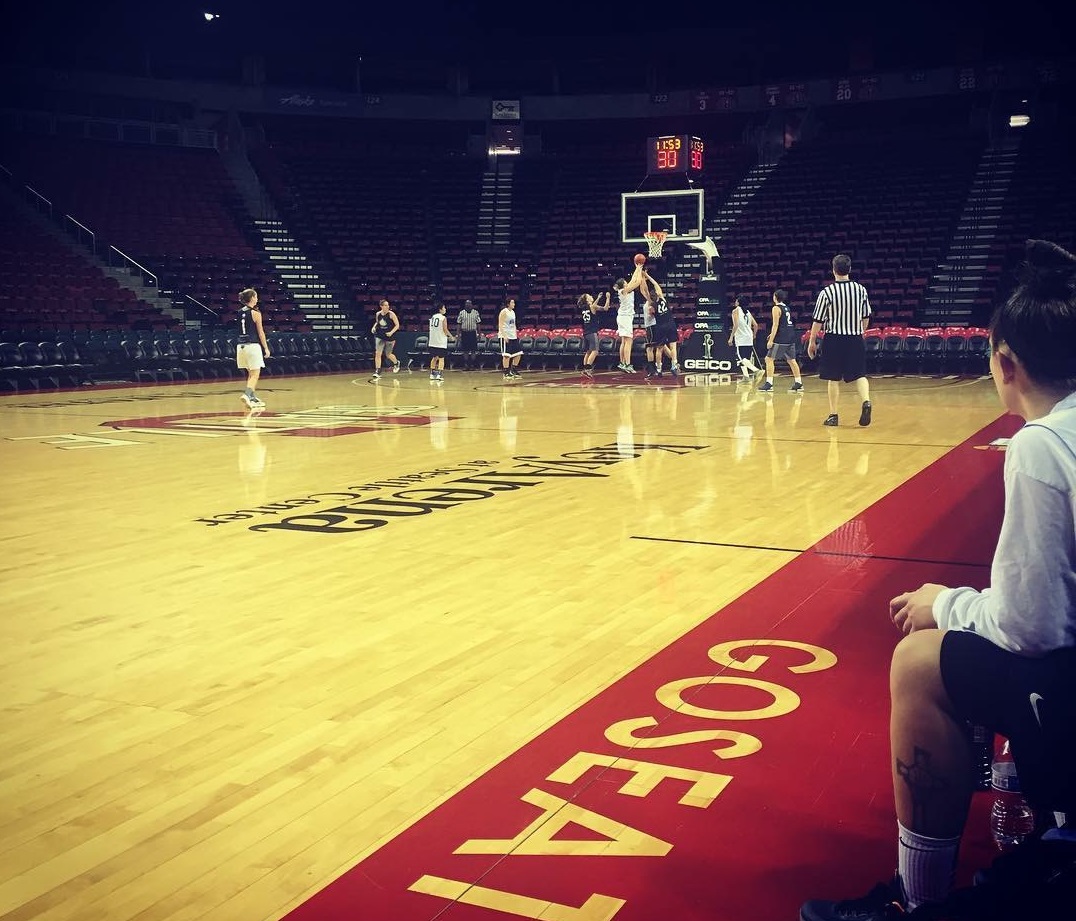 By Bea Chang and Matt Kelsey, Continued from our sports conversation two months ago ("The Lynx Between Us") between two sports fanatics, Bea Chang and Matt Kelsey now turn their attention to growing up in the infant years of the WNBA, getting into fights at bars in defense of women playing basketball, and shouting SUE BIRD at the top of their lungs at the Key Arena -- and why more of us should do the same. 
Bea Chang: I think when the WNBA first started in the summer of 1997—at least where I lived in southern California—girls' basketball had just taken off: all of a sudden, our co-ed Junior Lakers' league gave way to a girls-only Junior Sparks, AAU teams were popping up in high schools from San Diego to Sacramento, and my friends and I were playing for five teams at once. Everywhere we went, chasing those evening and weekend games up and down the Californian coast, we heard about the power houses of La Brea and Harvard-Westlake, about Cheryl Miller's record of 3,446 points at Riverside Poly, about Lisa Leslie's 101-point performance in a half at the high school my brother went to, and about how this new sensation, this kid from Chino, was about to break the state record and head onto UConn—this girl named Diana Tarausi.
Back then, the inauguration of the WNBA didn't feel like some historical event. I was too young, too naïve, a recent immigrant to this country, to truly understand. To me, it felt like something was happening that was always supposed to happen. But in the months that followed the tip-off between the Los Angeles Sparks and the New York Liberty was that, without my knowing it, the images I had of myself in my mind were changing. I was no longer a bald black dude throwing lob-passes to Shaq for a dunk. Instead, I taped up my wrists and brushed back the wisps of my flyaway, and I'd run a textbook pick and roll with Lisa Leslie, punctured by a precise, perfectly timed bounce pass. It wasn't that I ever really believed I could play in the WNBA. It was that there was just so much excitement in those days, so many possibilities. It was that I was a part of a generation who could get a college letter in the 7th-grade despite my team ; it was that older boys at school asked me for my autograph; that the younger girls I walked by bowed when I walked past them.
"when Love and Basketball came out, we believed that the movie was made about us." 
Maybe the games in the WNBA were slow back then. We heard the talk, of course, about how the league would not survive—especially not if the Houston Comets continued to win championships after championships. We heard dads talk about how the game was unskilled, how, had they been women, they could play in the WNBA too—yes, those middle-aged dudes who chucked up shots with two hands. But I didn't care. None of us did. We watched every game we could. We paid $10 and walked all the way down to sit by the court. When Love and Basketball came out, we believed that the movie was made about us. What matters is that when the WNBA did take off (which year it was, of course is always up for debate), all of those girls with whom I had shared the infant years of the league, who had grown up at the innocent height of AAU basketball, all of whose dreams were suddenly made possible—I think our generation had something to do with it.
Each year, the WNBA reaches a level of play never seen before in women's basketball. And every season, my excitement for hustle and defense and teamwork and alley-oops and fourth-quarter heroics that make up our beautiful game is paired with a sadness that my very own high school girls' basketball team knows nothing about it. Two years ago, I took two girls to a Seattle Storm game, both of whom had spent their own share of time in the gym, committed to a career of playing in college, and they told me that they had never gone. Later, when one of their fathers picked them up and I asked why he didn't take them to the Storm games, he asked, "Why would I?"
I wanted to tell him that there was yearning in their eyes at the end of the game when they asked if they could go down and touch the floor. We all do, like any boys who ever held a basketball or baseball or soccer, who wanted to touch the very ground on which professional athletes performed. But, he said, "it's just women's basketball."
You and I have gone to our share of women's basketball games at the Key Arena. The majority of the population cheering on Sue Bird (SUE BIRD!) and Jewell Loyd happen to be young girls, women, and families. There is barely a young single man such as yourself, catching t-shirts (thank you, by the way), and screaming at referees. Can you talk a little bit about that?
Matt Kelsey: It amazes me that I've known you for about 4 years now, and yet I had never known about some of your childhood experiences. I remember you telling me about how you would listen to Lakers broadcasts, and how listening to Chick Hearn helped you acquire and sharpen your English. (I sometimes tell my ESL students to go watch more sports in order to pick up more idiomatic language because of that!) But I wasn't privy to the rich and thorough account you so generously gave us above. Thanks for letting us into those youthful moments, that exuberance you and your teammates possessed. I even found myself feeling jealous of your original oblivion to just how divided men and women's athletics were—I hope there is a day when the acknowledgment of women's athletic success is something that "always happens," and doesn't have to be so entrenched in this narrative of overcoming odds or fighting for the spotlight, and when our viewership is so common and casual that young girls don't have to struggle so much for what they rightly deserve. Until then, of course, count me in for the fight.
"I don't believe professional basketball in Seattle is dead."
You asked about my experiences at Key Arena, watching the Storm. I've often been asked how I could stomach such experiences. Or else I'll tell some buddies that I just saw a game, and they'll say, "Oh yeah! I just went to a game and it actually was a good time," completely unaware of their phrasing's backhanded nature. It's as if they're saying, "Not bad...for women." And please, let me be clear: it's not just men who respond this way. I've had plenty of women shoot the WNBA down and challenge my decision to attend games.
So why do I go? I guess I'm excited by the possibilities you played for when you were younger. I want more women to be able to imagine more possibilities for themselves. I know what it's like to admire and want to emulate older women in my field (teaching), but I've also had a lot of excellent male role models. What I'm saying is, I don't know what it's like to be a young girl who wants to develop as an athlete, and potentially turn pro...and not have (m)any women to look up to for motivation. No one should feel so detached or alone like that.
Of course, I could just say that, and the idea would be nice. But the idea is nothing without action, right? Paulo Coehlo says, "The world is changed by your example, not by your opinion." So I go because action speaks louder than words. I go because there's a difference between "I like the NBA" and "I like basketball."
I go because I don't believe professional basketball in Seattle is dead.
To be fair: your student-athlete's father's question ("Why would I?") is a fair question to at least a small degree. If you haven't gone to a game, you wouldn't know just how loud the crowds get—your ears could trick you into believing Key Arena is brimming with fans. You wouldn't know just how good of a passer Sue Bird is, and how beautiful the arc of her shot is. You wouldn't know that the atmosphere promotes a positive, wallet-friendly, family-oriented atmosphere that's all too often missing at men's games. (I've heard plenty of people say they'd go to more sporting events, in general, if the crowds weren't so cutthroat, brutish, and dangerous...or if the experience wasn't so expensive. Well, go to a Storm game.)
Why go to a Storm game? Because we have Jewell Loyd (2015 #1 draft pick) and will soon have Breanna Stewart (this year's projected #1 pick) on our roster, anchored by Bird's veteran know-how. This season is going to be exciting, Bea. Can we please see the Chicago Sky when they come to town?
In the meantime: please tell me (and our readers!) about any other opportunities we might have to support the Storm, women's basketball, etc. I'm sure there's more I could do to level the playing field.
Bea: That reminds me: back in 2008, I went to the Women's NCAA Final Four in Tampa, Florida. When my friend and I told the taxi driver that we were going to the game, he, with a beard peppered with white, smiled. At first, his enthusiasm made us excited too—that he knew what we meant when we said, "the game" already sounded like a victory! And then he said, "I didn't know why all these people were here, and then I actually watched a bit of the semi-finals, and I thought to myself, 'Wow, these women can play!'"
In the backseat, my friend and I, both basketball players, looked at each other. We didn't say another word to him for the rest of the ride. There was a part of me that was excited by the idea that one person's opinion had been changed that year; there was also another part of me that was furiously offended. Didn't you tell me that at one point, Matt, you almost got into an argument with a woman at a bar in defense of the Storm?
"It scares me because many of their fathers and mothers and coaches and teachers are telling them that, unlike boys, their dreams are ridiculous."
I think your experience with women's sports, with the Storm (especially in Sonic-less Seattle) and the WNBA, is universal for men and women fans. Respecting the game these women play comes with a certain necessity to defend it, or to cower away from fights, especially if you are not a young girl. It scares me because I wonder what messages we are sending to our teenage girls about their dreams. It scares me because girls have by and large stopped going to Storm games once they reach high school because our society tells them that it's not "cool." Does anyone remember that we have had countless Olympians and Hall-of-Famers that have played and currently play right on our home court? It scares me because many of their fathers and mothers and coaches and teachers are telling them that, unlike boys, their dreams are ridiculous.
You asked what else we can do to support women's sports and level the playing field. I am still struggling with that too. There are so many wonderful organizations and leaders out there who are trying to create equal opportunities for girls and to empower them to be leaders. I think, at the adult level, we need to continue to talk about women's sports with the same zeal as we do our male counterparts. I think we need to talk about it and not feel ashamed by it, so that our girls won't have to. I think more women need to coach, and I think we need to remove the barriers that keep women from coaching. I think fathers and mothers and administrators need to treat women coaches like humans, too. I think, as a current coach now in KingCo League, we need to schedule girls' high school games at the prime time that boys get, at least once or twice.
Don't get me wrong. I completely understand that it comes down to money, that a mediocre boys' game by and large sells more tickets than an extraordinary girls' game, but I think we are encouraging that discrimination by always, always scheduling the girls at 6pm and the boys at 8pm. Again, it is sending a certain message to the girls we are trying to empower. What we are telling them is that they are not as good, and certainly not as entertaining, as the boys.
Before I launched the Awesome Sports Project to create a space where girls, women and men can talk about their experiences with women sports, I struggled with how much we should talk to the girls about the inequality we still experience as girls and women in sports. Ask any young woman coaches—all of us have had male referees treat us like 10-year-old girls, in front of the very girls we are supposed to give voice to. Do we talk with the girls about the sexism that is so prevalent in our chosen field? When I thought back on my own childhood, right at the height of women sports with the 1999 World Cup and the WNBA, I was oblivious to discrimination, and happily so; yet, on a certain level, there was always an anger building up inside me. So that when my high school coach, a young woman at 23 years old, eventually revealed to me that for her interview, the Athletic Director had made her show him how to do lay-ups in her heels and then, one season later, fired her because she refused to run the program he wanted, I didn't quite grasp it. I didn't see ageism or sexism. What I saw was an unfair world that almost made me, an impulsive kid at 16, walk entirely away from the game, way before it was time to hang up my sneakers.
I do think things are changing. This winter season, after ten years of coaching, I was a part of a high school varsity game where the coaching staff on both teams were entirely women. It was fun. It was exhilarating. It was us coaching our girls without fear of discrimination—or at the very least, equal discrimination. It was yelling and screaming and laughing at the end of the game. It was a glimpse into what we are capable of becoming.
This past weekend, my women's team was invited to play a friendly game at the Key Arena. I had invited one of our starters, a sophomore at my high school. The two of us sat on the cushioned chairs on the baseline, and watched the co-ed game before us, where one girl was dominating on the boards and baskets. The sophomore laughed and said, "That girl is just killing it! She's killing everyone!"
She was so, so excited. I wasn't sure if I should tell her that, by co-ed rules, men aren't allowed to block women's shots. I wasn't sure what she would think about that.
Matt: It's easy to read your last email and feel defeated. I shook my head a number of times during your last note. And yes: I was at a bar once, trying to make conversation with a young woman next to me, when her friend heard me mention the Storm and interrupted, bewildered by my fandom. That friend and I continued to debate the merits of the WNBA—she couldn't make sense of me, and I wouldn't be bullied—and the first woman was eventually frustrated enough to grab her friend and walk off. Anyway, it feels imperative to start my final response with a simple but heart-felt sorry. Sorry that the odds are stacked against you. Sorry that people are so narrow-minded. Sorry I don't have more answers.
BUT! You said the tide was changing, even if slowly, and I think you're right. You can be scared all you want about what has already occurred in this world and across the athletic landscape. But being scared isn't part of the solution, and we have to make sure we don't pass that fear on to the younger generations. Our job is not always to highlight the concerns (there's a time and place for that, sure) but to promote all the positive developments. The fact that there's a WNBA at all, let alone one that is beginning to really flourish and field some remarkable talents, is incredible. And the fact that the entire staff for a varsity game was all-female? Unthinkable in our childhoods. Push that, Bea. Take that and run with it.
Your Awesome Sports Project is so promising, and I smiled when I read your note about it because it reminded me of the Awesome "Shoot Like A Girl" hoodie I have here at home. I've enjoyed wearing that to the courts to play ball in colder seasons. You said you need people to talk unabashedly about our love for the league, right? Well, then. Let me finish this exchange by gushing, sans shame, about my Seattle Storm:
Jewell Loyd is going to be phenomenal in her second year. I think she ups her numbers and puts up averages of 15/5/3 this season. And that's a conservative bet, because the ageless Sue Bird was still putting up 12.3 points and 5.4 assists last year. If she can still post 10/5, you know Jewell is going to be a primary beneficiary. And we're not done there. As I said earlier in the thread, we're about to draft....BREANNA STEWART! We're going to be a fast team, a strong team, and a very young team. (At least 7 players on the roster will have 3 years of experience or less!) We'll have a proven champ in Bird, and an unstoppable tandem in Stewart/Loyd. Also, don't you think it'll help Stewart to have her old college teammate (Kaleena Mosqueda-Lewis) on her team again?
And I haven't even mentioned the coach! I love Jenny Boucek. She was a star in college, and played briefly for the Cleveland Rockers before getting injured. (For the record: she was able to recover and knock the socks off of her Icelandic competition.) Her brilliance as a scout and film assistant has been proven on the NBA level, as well, so she's capable of working with a wide variety of attitudes, characters, and skill sets. Honestly? I have a great feeling about her ability to develop our young players, and I think her second year at the helm promises to be a stellar one. We went 10-24 last year, right? I'll bet you a Storm hoodie that we win at least 18 games this year and submit a winning campaign.
Of course, I'm moving to Chicago this summer, and for as much as the Storm will always have a spot in my heart, you won't be surprised to know that I plan to bring a lot of hype to the Sky fan base. Wherever I live, I'll be pushing for a wider WNBA fan base, and will continue to support your endeavors here in Seattle. Bea: don't be scared. Be(a) awesome.
Matthew Kelsey was born in Glens Falls, NY. The recent recipient of a Bread Loaf scholarship, Matthew teaches at Everett Community College and the University of Washington. Some of his sports writing can be found in The Classical. Other writings can be found in Best New Poets, Beloit Poetry Journal, and elsewhere. 
Bea Chang grew up a basketball junkie in southern California and New Jersey. She received her Master of Fine Arts in Creative Writing from the University of Washington. Her work has been published in Toasted Cheese Literary Journal, Colere: A Journal of Cultural Exploration, Memoir, as well as an upcoming essay in Broad Street.
Cover photo credit: Lindsey Blaine.